We see our historic 40,000 square foot facility as a tremendous asset not only to our congregation but also to our community. Our forbearers built a building larger than they could fill in anticipation of the future. Today, our facility has become a cornerstone in the downtown neighborhood and a sought after venue. Besides the programs of the Urban Grace congregation, we open our doors to thousands of people each year as they attend concerts, meetings, and dance classes. We currently house over fifteen nonprofits and arts organizations as well as individual artists and therapists for office space or regular usage.
In alignment with our values, we partner with groups or individuals working in education/advocacy, the arts, social services, and/or worship. We recognize that our historic building is not simply a place where events happen or people work, but it is an integral part of who we are and the legacy we are privileged to continue. Urban Grace is committed to not only preserving our church building, but improving its facilities so that the broader community may benefit into the future. Those before us chose to build, maintain, and uphold a building that was both physically and figuratively bigger than its people in order to serve their community for the long-term. We seek to graciously do the same. ... Learn More About Our Historic Building.

First Baptist Church incorporated with ten members on March 28, 1883. The Tacoma Land Company donated the original two lots to the congregation. A year later, on March 16, 1884, the first building was dedicated on the current site. The young congregation grew quickly, and by 1891 made plans for a greatly enlarged church. Construction on the "new" building began in 1892.

By 1921, First Baptist had again outgrown their building. The congregation started a capital fundraising campaign for a newer, larger home. The architectural firm of Heath, Gove, and Bell was contracted to design the structure. While original newspaper images show a large, ornate Greek Revival building, the finalized design was a subdued Gothic Revival styled structure. The original edifice was designed with glazed terracotta facing, a more inexpensive building material than the cut stone typically used for Gothic Revival structures. However, early in the construction process, Robert Walker, owner of the Walker Cut Stone Company, made arrangements for the purchase of cut stone below market rates.

The current structure has an auditorium which seats 850 and a banquet hall with a stage. The building was never intended to serve only as a religious space; it was designed to accommodate a variety of activities to better serve the community from the very beginning.
Urban Grace offers a unique location within the downtown Tacoma community and a historic building built in 1925. We hope we will be able to meet your needs and provide a wonderful start to your marriage.
We have many options to choose from depending on the size and needs of your wedding, including large and small spaces for your ceremony and reception. We also have ample space for bride and grooms rooms as well as additional space for family and the rest of the wedding party.
Includes rehearsal, use of sanctuary, large reception hall (if needed), bride & groom's rooms, and event host.
| WEDDING/RECEPTION PACKAGES | SANCTUARY |
| --- | --- |
| 4-hour Package | Starting at $900 |
| 6-hour Package | Starting at $1250 |
| 8-hour Package | Starting at $1600 |
Rental includes rehearsal, use of chapel, small reception hall (if needed), bride & groom's rooms, and event host.
| WEDDING/RECEPTION PACKAGES | CHAPEL |
| --- | --- |
| 4-hour Package | Starting at $600 |
| 6-hour Package | Starting at $800 |
| 8-hour Package |  Starting at $1000 |
Urban Grace offers a unique venue within the downtown Tacoma community. We hope we will be able to meet your needs and provide a wonderful location for your event. All of our spaces are priced based on size and amount of time needed. Our friendly and resourceful facilities staff are always available to discuss and book your event.

Our auditorium can seat up to 850 (including balcony) or 450 on just the lower level. It features comfortable theatre seats, a basic sound system and a projector/screen for presentations, all surrounded by early 20th century architecture including a lattice-design domed ceiling.
Our small event space is just over 1000 square feet and features wonderful natural light from the original 10′ windows that look over downtown Tacoma. A 100 square foot kitchen offers refrigeration and cozy prep space. This space works great for meetings, meals or gatherings of up to 60 people.
Our conference room features hardwood floors and abundant natural light from the original 10′ windows overlooking downtown Tacoma. Tables and chairs can seat up to 40 with plenty of extra space for break out sessions or beverage tables. A refrigerator and water cooler is provided in the room. Please note: this room is not ADA accessible.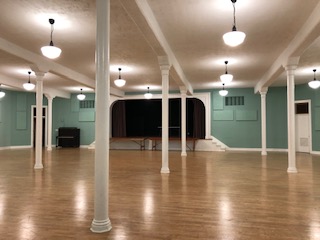 Our large event space features hardwood floors and a raised stage. We have ample round and rectangular tables and chairs to accommodate up to 200 people. A full-size kitchen is available for food prep or storage featuring three refrigerators, three freezers, and abundant counter space. This space is ideal for company gatherings, conferences, or seminars. 
Our intimate Chapel can seat up to 90 and offers a more traditional style with stained glass and mahogany accents. The comfy, movable chairs give flexibility in set up so the room can be fashioned any way you choose. This space works great for seminars, small concerts, or panel discussions. 
Urban Grace rents office space to organizations and individuals that fall within our facility's mission of education/advocacy, the arts, social services, or worship. Your monthly rental also comes with use of our smaller meeting rooms, access to kitchen and common spaces and discounts on large spaces for events.